Treatments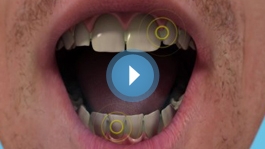 As well as the well-known negative effects of smoking on your general health, the habit can also cause a range of dental health problems. Smoking is one of the key causes of mouth cancer, which can affect any of your mouth's soft tissues, including tongue, lips and cheeks. The habit can also contribute to gum disease and can lead to shrinking or receding gums.
Other effects of smoking on your dental health include:
Brown stains on your teeth
Bad breath
Altered sense of taste and smell
Sores in the mouth
Bone loss
Snoring
Smokers also often have more of a build-up of tartar on their teeth, which lead to decay and eventually to tooth loss.
We know that giving up smoking is tough, but the effects on your general and dental health cannot be underestimated. If you feel like you are ready to give up smoking, we can provide you with smoking cessation advice and support from our hygienist, Anne Tolefe. We will of course also treat any dental problems your smoking may have caused. As dentists we are well-placed to identify problems caused by smoking, and we can also diagnose, advise and refer patients to smoking cessation services.
Smoking cessation services are available on the NHS, so you may be referred to your GP or to a specialist smoking cessation clinic. There you may be prescribed nicotine-replacement products such as:
Smoking cessation services are available on the NHS, and you may be referred to your GP or a specialist stop smoking clinic. There you may be offered a range of products to help ease the nicotine cravings most smokers experience when they try to give up. They may also give you advice on how to handle these cravings. Products prescribed may include:
Nicotine patches
Inhalators
Chewing gum
Nose or mouth spray
Lozenges
Prescription drugs that counteract nicotine cravings
Even if you don't feel ready to stop smoking yet, smoking cessation services can also help you cut down with a view to giving up in the future. Please contact the practice to book a smoking cessation advice appointment with Anne.
Back to Treatments