Why Choose Us
Meet the Team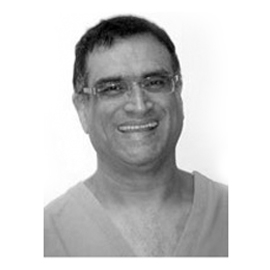 Dr Riaz Qureshi
Oral Surgeon (Visiting)
GDC No. 71227
Dr Qureshi is a specialist oral surgeon with a very warm personality. In addition to providing specialist support in oral surgery and implant dentistry in our practice, He has been an invaluable mentor.
He started his career in Oral Surgery in 1985. He did Masters in Oral Medicine and Oral Surgery from Bristol University from 1987 to 1989.
Besides gaining experience and an understanding of the basics in both fields, he also did research in the 'Psychological and Psychiatric Sequel of Maxillofacial Trauma'. He has worked at various levels in a number of NHS hospitals, where he gained experience in all fields of Oral Surgery.
In 1995, he joined Manchester University as a clinical lecturer. After working as a Consultant Oral Surgeon at Victoria Hospital, he joined the most prestigious Institute of Medical Sciences in South East Asia, Agha Khan Medical University in Karachi, as a Professor in 1999. Here, he was involved in teaching medical students Oral Medicine and Oral Surgery, as well as designing problem-based learning scenarios for the medical course. He developed a team of doctors and co-workers that would reconstruct the jaws after re-section in oral cancer cases.
Amongst his famous cases is the re-implantation of an avulsed mandible. He was appointed as the Consultant Oral and Maxillofacial Surgeon at King Fahad National Guard Hospital in 2001. He moved back to the UK in 2004 and began working at Consultant level in several NHS hospitals.
His special interest is Dental Implantology & reconstruction of jaws. He recently gained diploma in implantology from Royal College of Surgeons England & a Certificate from University of Lille, France.
Dr Qureshi is an International Speaker and lectures on all aspects of Oral Surgery and Dental Implantology.
Qualifications:
BDS, Bsc, Msc (OMOS), FFD RCSI (OMOS), FDS RCS, FICD (USA), Diploma Dent. Implant RCS (England)
Back to Meet the Team